10:32 PM
tee , Posted in
Everything else
,
gift ideas
,
wishlist
,
0 Comments
There are many things I am good at, but I am exceptional at wanting things. I desire some things to the point that it's quite embarrassing to detail. My current obsession?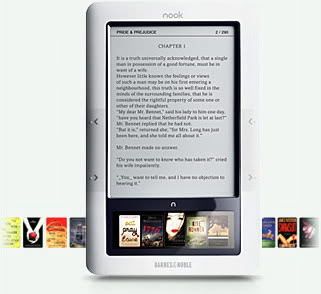 On the train I daydream of re-reading classics and shamelessly divulging in trashy novels. I gaze into my patent bowling bag and imagine how neatly it would fit in my purse, marvelously standing out in its hot pink Kate Spade
case
, begging to be opened and perused.
And to torture me even further, the
Barnes & Noble Nook e-Reader
currently isn't available until February 4th. February! My heart.
I want it.
I want it.
I want it.
Now
.
<3 always,
tee
[image via Google images]